Hey Cats!
As you all know, accessories are my favorite part of any outfit, and I typically follow the rule "the bigger the better". Not in a gaudy, excessive way, but more of a single statement piece kind of way. I love big earrings, and my latest favorites are tassel earrings. I've spotted them on a few of my favorite bloggers, specifically Kate from A Lone Star State of Southern and Caitlin from Southern Curls & Pearls.
Now, these are definitely a bold statement, and I'd probably have to work up some courage to wear them- but I'm definitely willing to give it a shot! They can be dressed up or down, and would function well as the single, star accessory of an ensemble. I'm picturing the gold pair with my black, flowy tank and high-waisted chevron shorts- perfect!
I've got my eye on these black beauties from Lisi Lerch– they're also available in orange, turquoise, white, silver, and gold, but I think that the black pair would work best with my personal wardrobe.
Another option is this lovely lime pair from Kate Spade Saturday. They are also available in black, white, and coral.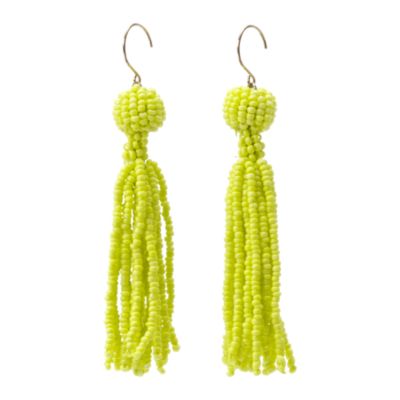 I will definitely be adding a pair of tassel earrings to my jewelry collection this summer- maybe in a few colors! What jewelry trends are you loving this season?
Today, I'm linking up with Zelle from A Southern Style, Kristina from Medicine & Manicures, Katie from Champagne & Suitcases, and Amanda from As the Wine Cork Turns for #TrendingTuesday- head over and see what's trendy this Tuesday!
That's all for meow!
For more Sweet Cats!, follow along at: